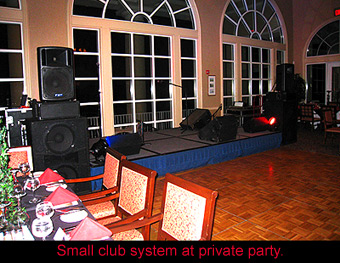 Just because you are a club and not a concert venue doesn't mean you should settle for an inadequate sound system. You pay good money for the bands you hire and your customers deserve the best show you can give them.
Our club system is designed to supply the best sound for clubs of any size. Our normal club system contains most of the same equipment used for concerts.
Our front of house consists of top of the line gear such as Midas, Yamaha, DBX and Presonus. On each side of the stage we use a 2000 watt Double 18" Ramsdell speaker cabinet with a 900 watt 15" and a horn from FBT for the top end.
All power is from the XTI Crown power amp series. This system will cover most clubs but we can easily add to it for larger clubs or big events.
We also include a separate monitor console capable of 12 separate mixes. This means a better mix out front and a better stage mix for the band. most club sound systems run monitors from the front of house console to save money. You will never see monitors being run from front of house at a concert so why should it be done in the clubs? We truly believe that the clubs and bands we work for deserve the same set up and treatment as a concert only on a smaller scale.
All mics, cables and stands are also included. Just have the band bring their gear and we'll handle the rest.