LIVE SHOWS & SERVICES
Is your church in need of a sound system for your services but don't have the budget to purchase one yet. Red Chrome Audio is one of the few sound companies in the Tampa Bay Area experienced with working with start up churches or churches that are re-locating.
We have worked with many churches in the past that were meeting in a temporary facility such as a school and needed a system set up and tore down every Sunday. Red Chrome audio can handle all your sound and lighting needs to free you up to concentrate on the service. We are also happy to help train your staff in the process so when you do purchase a sound system your volunteers are much more equipped to handle the task.


-Married Life Live -
Red Chrome Audio provided lighting, trusses, additional low end to house system, sound and lighting techs.
CONSULTING
Do you already own a system but feel you are not getting enough out of it or it just doesn't sound the way you envisioned? Is it the equipment or the way it is being used? Most churches rely heavily on volunteers. Unfortunately most volunteers just don't have the experience working with all the complex details of a front of house and monitor system. Sure you can get the sound to come out but does it really sound like you want it to? Before you start investing in better or more gear, you need to make sure the gear you have is being run correctly.
Red Chrome Audio can send someone to your church to consult with you on your system and to help train your volunteers and staff. We will take the time to meet with them anytime during the day or night, at rehearsals and at the services. We work with volunteers at any level and the amount of time you want us to spend with them is totally up to you.
Here are a few examples of the services Red Chrome Audio has done in the past...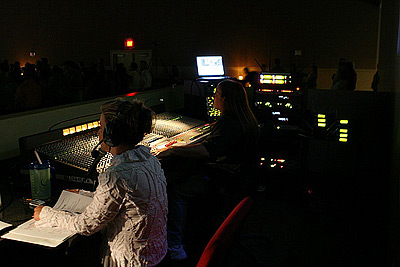 Harborside Church
Safety Harbor, FL.
Red Chrome Audio was asked to help with the sound from the house system being run by a couple of volunteers. This included training the volunteers on all basics of sound from mic techniques to mixing the Sunday services. mixed and taught volunteers at Thursday night rehearsals and Sunday services on house system.
The Church was sold and started meeting in Countryside High School until their new building was completed.
Red Chrome Audio was then asked to Set up and tear down complete Front of House PA and separate monitor system every Sunday for approximately 5 years. During this time many volunteers were trained for audio, video and lighting.
After the new building was completed Red Chrome Audio ran the services and special events on their house system while continuing to train volunteers, youth and staff.
Openwater Church
Tampa, FL.
Red Chrome Audio corrected and re-wired front of house system. Some time was spent on speaker placement and acoustic room treatment. We then purchased and added a separate monitor system, within the church budget, making it easier for volunteers to mix the main PA.
A meeting was held with the staff and volunteers to explain how the system worked what changes were done and why.
Red Chrome Audio continued working with volunteers on Thursday night during rehearsals, sound checks and mixing a couple of Sundays per month for approximately 6 months.
We also brought in a larger PA system for a special event featuring several bands.
United Methodist Church
Dunedin, FL.
Attended rehearsal for consultation and a one day training for volunteers mixing the Front of House PA. Purchased a separate 16 channel monitor system. Installed and trained volunteers and musicians on the use of the monitor system.